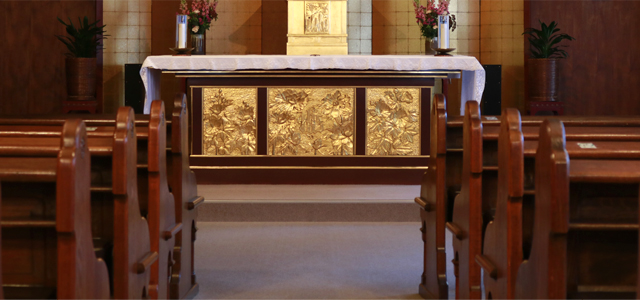 TOPICS
Message on Concluding the "Ignatian Year"
Concluding the Ignatian Year
By Fr. Lee Sung-il, SJ
The Ignatian Year that commenced on May 21st last year will conclude on July 31st of this year. The Catholic Jesuit Center organized a variety of events in commemoration of the year, and we now wish to convey our gratitude to all who were either involved or had cooperated with us by saying, "thank you very much."
"Seeing everything anew in Christ" was the motto of this memorial year. It means that as we were re-learning what the life and faith experience of St. Ignatius was, we ourselves viewed everything in the world around us through new eyes. Have we acquired new ways of looking at things? If so, what does that signify? Have we ourselves become something new? This is not a question that can be answered right now. I believe it will continue to be a challenge for all of us in the future.
During the past year the coronavirus ultimately did not end. The numbers of those infected have been rising and falling, and this has even begun to affect our lives. Five months have already elapsed since the Russian invasion commenced, and the situation in Ukraine is growing steadily worse. The desire for peace appears to be receding day by day. The question as to what could be done with a world like this is critical, but equally critical is the issue as to how we choose to look at it. To ask what we can do for suffering people, is important. However, it is perhaps even more important to find out what we can do, and if there is something we can do, to do it.
In June, we cooperated in conducting a photograph exhibition of the works of contemporary Ukrainian artists, and held a brief film-viewing event by a Ukrainian lady director. We also initiated the acceptance of international students from Ukraine, and eight such international students have visited our center. I believe steps like these will be of significance to Ukraine in the future, even if they do not directly assist the nation during the time of war.
Well, there are quite a few things that I learned in the course of this Ignatian Year, but there is just one thing I would like to speak about.
The expression "Cannonball Moment" came into use because the conversion of St. Ignatius was triggered by a single shell he received at the Battle of Pamplona. The first thing to realize here is that this was an original event occurring at the start of his autobiography, wherein he states, "I was drowned in the vanities of the world until I was 26 years old."
Judging by the year St. Ignatius was born he would have been "26 years old" in 1517, but the battle of Pamplona occurred in 1521. This inconsistency has been construed as a simple miscalculation on the part of St. Ignatius. Nonetheless however, Fr. De Castro, who delivered a lecture at the commemorative symposium, insisted that the Cannonball Moment occurred in 1517. That was the year when Velázquez, the treasurer of the Castilian royal family whom Ignatius had served since he was 15 years of age, was banished from the palace. Inigo also left the palace along with his lord, and went to serve instead Antonio the Duke of Nájera, who defended Pamplona. For Inigo it implied that his dream of being in a gorgeous palace, engaging in martial arts, and serving a noble lady, was something fleeting. It was exactly the way he later recalled that time, that is, "I was drowning in the vanity of the world until I was 26 years old." When we consider the issue however, it appears as though Inigo, who still insisted on daring to fight despite that utterly unfavorable situation in Pamplona, was motivated more by desperation than by knightly bravery. After he was hit by a shell and had collapsed, and while he was reposing in his hometown, half of his head and heart were perhaps still teeming with knightly aspirations and ambitions.
It was for this reason that Fr. De Castro also said that in the case of St. Ignatius, it may be more fitting to use the word "transformation" rather than "conversion."  The "Cannonball Moment" too did not occur just once. It arose on several occasions throughout his lifetime. Right now we have no time to review the various incidents in the life of St. Ignatius, and point out that such and such was the case at such and such a time. It may perhaps be good to read his autobiography once again.
When we consider it that way, we see that "transformation" is something that also applies to us. If we reflect upon the life we have lived so far, I am sure we will find that there were indeed some "Cannonball Moments" that influenced our way of living. While weakening and fortifying our faith, they yet continued to support us on our path and keep us alive. This means, we ourselves will also be transformed. That transformation will lead us to the "Figure of Christ." Our hope of transformation will persist until it attains the stage spoken of by St. Paul, when he declared, "I want to know Christ—yes, to know the power of his resurrection and participation in his sufferings, becoming like him in his death." (Philippians 3:10).
As we conclude the Ignatian Year, let us all pray together that from now on our daily life and prayers may "transform" us, and enable our faith to "mature."